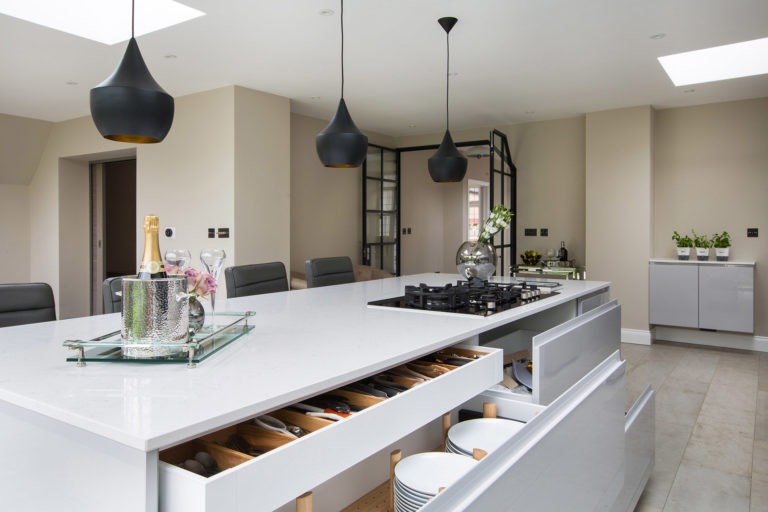 Kitchen Islands
At Kitchen Co-Ordination, we design the ultimate modern kitchens in London and specialise in planning and designing beautiful kitchens for your home. If you are looking for your perfect kitchen island, then look no further. We can supply you with the finest kitchen islands available on the market which are suited to a variety of budgets. With a wide range of different materials, colours, storage solutions and specifications, we can provide you with a stunning kitchen island which is tailored to all of your individual needs. Whether you want your kitchen island to be used as an extra cooking area, for additional storage or even a breakfast bar, we can find a practical and efficient kitchen island for you and your family to enjoy for many years.
Kitchen islands can come in a wide range of different sizes, shapes and styles and can be used for many different purposes. Our customers have the freedom to choose each individual element of their kitchen island, making it personalised and unique to you. This means that no two kitchen islands will ever be the same. At Kitchen Co-Ordination London, we can help you to plan and design your kitchen island so that it will meet all of your personal requirements. Working closely alongside you, we will gather all of your ideas and specifications to create a beautiful and practical kitchen island. With an eye for fine details and attention to care, we will design and install your kitchen island so that it is smooth, functional and flawless.
A kitchen island can become a beautiful centrepiece in your kitchen and is a place where family and guests will gather around. This is why it is important to ensure that your kitchen island is stylish and high in quality. This confirms that the highest standards have been met so that your kitchen island will be strong, practical and durable, lasting for many years.
One key choice you will have to make for your kitchen island is the worktop materials. There are plenty of options when it comes to deciding on which worktop material will best for you. Popular materials include quartz, granite and solid wood, each is stylish and have their own benefits. It is a wise decision to do a little research before choosing your worktop as some may be stronger, more porous and have different price ranges than others. Kitchen Co-Ordination London can give you expert advice to help with your decision so that you will be completely happy with the overall design, materials, colours and function of your kitchen island.
How you will use your kitchen island is an important thing to consider when you start the design process. Your kitchen island can be used to add extra ovens and hobs for avid cooks or it can be used to add cabinets and drawers for that much-needed storage. You can even design your kitchen island as a seating area to keep family and guests in view whilst you cook. Planning on how you will use your kitchen island will ensure that it will be practical whilst meeting your everyday lifestyle.
If you would like any more information about our beautiful kitchen islands, please do not hesitate to contact us here at Kitchen Co-Ordination London. We will be happy to answer any questions you may have and discuss all of your individual needs to create your perfect kitchen island. We look forward to hearing from you.